SET HEARTS A FLUTTER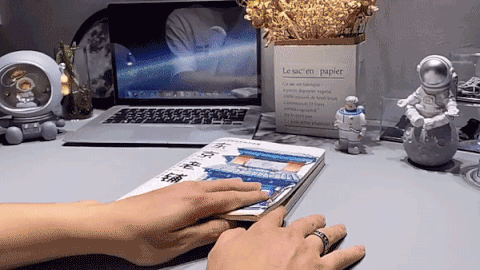 CREATE MAGICAL MOMENTS
Imagine the surprise from your friends or family as they go to open your gift and suddenly butterflies spring from the page! What a delightful shock! They will never forget that moment you created for them! 
THEY WILL NEVER FORGET THEIR BUTTERFLY
What kid doesn't dream of catching butterflies? Your kids will never forget the time you got them Flying Flutter Flyers! 
Now they can spend hours catching them and then recatching them over and over again while you can sit back, relax, and watch the entertainment unfold.
LIVEN UP YOUR NEXT PARTY
Place them in a photo album or coffee table book at your next dinner party and wait for your guests to spring the surprise. They will be delighted when suddenly butterflies jump off the page. Now that's a way to instantly liven up a party!
ENDLESS POSSIBILITIES
Flutter Flyers uses are only limited by your imagination!  They are perfect for birthday cards, Valentine's cards, announcements, invitations, or just for fun!  They make great toys at kid's birthday parties or as wedding favors.  Flutter Flyers will lift spirits and get your message to take off!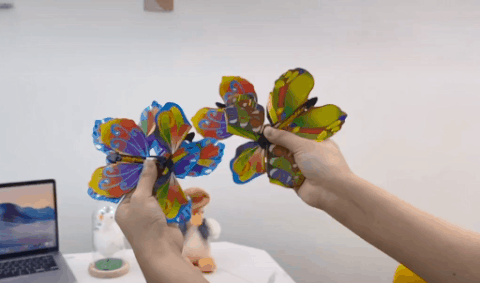 BEAUTIFUL FLIGHT
Flutter Flyers have a one-of-a-kind way of flying that looks like a real butterfly! The best part is that no battery or cables are required.  Flutter Flyers are wound up by simply turning the Flutter Flyers head many times to activate the flight band.  Once it's wound it will take off, so hold on tight!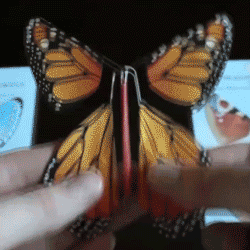 COLORFUL AND VIVID
Flutter Flyers come in various beautiful vibrant color that attracts attention and delights children.  Place them in your next card or invitation and let your family and friends enjoy the excitement. 
RELIABLE AND DURABLE
Flutter Flyers are lightweight but shocking durable!  Use them over and over again!  The rubber bands, a wire core, and durable paper wings combine to provide the Flutter Fly excellent elasticity.  Rotate the rubber band clockwise or counterclockwise, and the butterfly will fly in different directions.